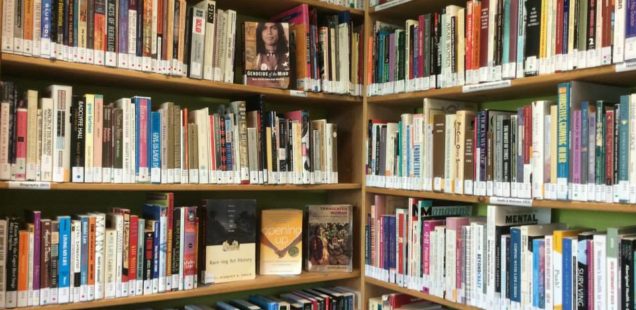 La-la-la-la-library!
I love books. I'm making a list of books and other resources to purchase this fiscal year and am really excited about our library.
To celebrate our library, I decided to make a list of all of the books that were added to our library this school year. If you are interested in checking out books, we have a 2-week loan policy with a compassionate overdue policy. We don't want to bankrupt you; we just want the books back. 🙂 If you want to check out book or other resources, come by between 11-5 Monday-Thursdays or email volunteer@grcged.com
~Lori, the nerdy one
Volunteer and Resource Coordinator
Simians, Cyborgs And Women : The Reinvention Of Nature
Toward A Recognition Of Androgyny
Assuming A Body : Transgender And Rhetorics Of Materiality
Attic, The Pearls & Three Fine Girls, The
Bathory : A Play (Velvet Touch)
Changing Patterns : Women In Canada
Family Patterns, Gender Relations
Female Masculinity
Feminist Theory : A Reader
Fifth Sacred Thing, The
Forever Yours, Marie-Lou : A Play
Funnyhouse Of A Negro : A Play In One Act
Going Back In & Getting Dragged Out : A Play
Goodnight Desdemona (Good Morning Juliet)
HARLEM IS NOWHERE : A JOURNEY TO THE MECCA OF BLACK AMERICA
Keeping You A Secret : A Novel
Last Sex, The : Feminism And Outlaw Bodies (Culturetexts.)
Radical Perversions : Two Dyke Plays
Speaking Of Gender
Speaking Sex To Power : The Politics Of Queer Sex
We Don't Need Another Wave : Dispatches From The Next Generation Of Feminists
Year Of The Flood, The : A Novel
Ecofeminism : Women, Culture, Nature
Material Feminisms
Women And Gender : A Feminist Psychology
Collaboration In The Feminine : Writings On Women And Culture From Tessera
Ejaculations From The Charm Factory : A Memoir
Feminist Theorists : Three Centuries Of Key Women Thinkers
Feminist Theory And Cultural Studies : Stories Of Unsettled Relations (Cultural Studies In Practice.)
Handbook Of Literary Feminisms, A
Hot, Wet, & Shaking : How I Learned To Talk About Sex
Introduction To Women's Writing, An : From The Middle Ages To The Present Day
Lesbian Triptych
Racism And Paid Work
Rhubarb-O-Rama! : Plays And Playwrights From The Rhubarb! Festival
Surpassing The Love Of Men : Romantic Friendship And Love Between Women From The Renaissance To The Present
Theory In Its Feminist Travels : Conversations In U.S. Women's Movements
Torquere : Journal Of The Canadian Lesbian And Gay Studies Association
Women And Men : Interdisciplinary Readings On Gender
Women And The Politics Of Culture : Studies In The Sexual Economy
Zeroes + Ones : Digital Women + The New Technoculture
By, For & About : Feminist Cultural Politics
Canadian Woman Studies : An Introductory Reader
Canadian Woman Studies : An Introductory Reader
Changing Methods : Feminists Transforming Practice
Conflicts In Feminism
Critical Practice (New Accents)
Feminist Frameworks : Alternative Theoretical Accounts Of The Relations Between Women And Men
Feminist Philosophies : Problems, Theories And Applications
From Different Shores : Perspectives On Race And Ethnicity In America
Labour Pains : Women's Work In Crisis
Widening Sphere, The : Women In Canada, 1870-1940.
Against Equality : Queer Revolution, Not Mere Inclusion
Canadian Women : A Reader
Colors Of Nature, The : Culture, Identity, And The Natural World
Feminism/Postmodernism (Thinking Gender.)
First Voices : An Aboriginal Women's Reader
Fucking Trans Women : A zine about the sex lives of trans women
Girl With The Dragon Tattoo And Philosophy, The : Everything Is Fire (The Blackwell Philosophy And Pop Culture Series.)
Good Sex : Feminist Perspectives From The World's Religions
History & Feminism : A Glass Half Full (Impact Of Feminism On The Arts & Sciences)
Maddaddam : A Novel (Maddaddam Trilogy 😉
Making The Links : An Anthology Of Voices
Mirror For Humanity : A Concise Introduction To Cultural Anthropology
Nimo's War, Emma's War : Making Feminist Sense Of The Iraq War
Pearls of passion : a treasury of lesbian erotica
Politics Of Reality, The : Essays In Feminist Theory (Crossing Press Feminist Series.)
Sex Changes : The Politics Of Transgenderism
Small Beauty
Tahuri : Short Stories (International Connections : Women Writers From Around The World)
Torquere : Journal Of The Canadian Lesbian And Gay Studies Association
Toward A New Heaven And A New Earth : Essays In Honor Of Elisabeth Schèussler Fiorenza
Vibrant Matter : A Political Ecology Of Things
White Women, Race Matters : The Social Construction Of Whiteness
Women, Class, And The Feminist Imagination : A Socialist-Feminist Reader (Women In The Political Economy.)
Women, Knowledge, And Reality : Explorations In Feminist Philosophy