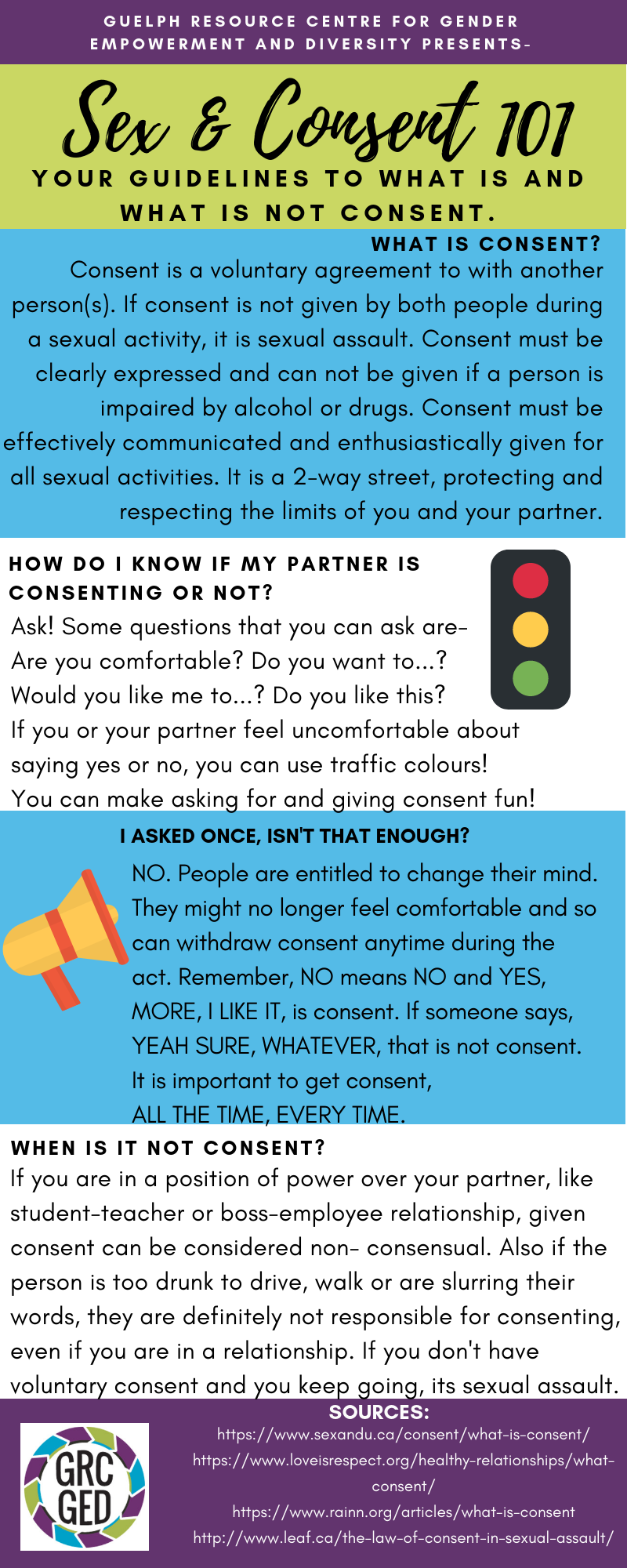 GRCGED presents: Sex & Consent 101
Your guide to what is and is not consent
WHAT IS CONSENT?
It is a voluntary agreement between people. If consent is not given by both people during a sexual activity, it is sexual assault. Consent must be clearly expressed and can not be given if a person is impaired by alcohol or drugs. It is a way to effectively communicate with your partner to form a healthy relationship and be able to share what is acceptable and what is not.
Consent must be effectively communicated an enthusiastically given for all sexual activities. It is a 2-way street, protecting and respecting the limits of you and your partner.
Consent:
should never be assumed or implied
is not silence or the absence of "no"
cannot be given if you are impaired by alcohol or drugs, or unconscious
can never be obtained through threats or coercion
can be withdrawn at any time
cannot be given if the perpetrator abuses a position of trust, power or authority
cannot be given by anyone other than the person participating in the sexual activity (e.g. your parent, brother or sister, girlfriend or boyfriend, spouse, friend etc., cannot consent for you or on your behalf).
HOW DO I KNOW IF MY PARTNER IS CONSENTING OR NOT?
Ask! If you are not sure about something, just go ahead and ask. Better safe than sorry. Also, if you are engaging in an intimate activity, everyone involved should be comfortable with each other. Some suggestions for what to ask are
Are you comfortable
Would you like to….
Would you like me to…..
Do you want to slow down
Do you want to go any further
Do you like this
Is this okay
It is important that you know and respect your partner's wishes. If you don't know if you actually get consent or not in intense situations check in with your partner frequently, as it can also heighten the mood. 😉 If you or your partner feel uncomfortable saying yes and no all the time, some people use red, yellow, green, just like stop lights. You can make asking for and giving consent fun!
I ASKED AT THE BEGINNING, ISN'T THAT ENOUGH?
No. People are entitled to change their minds. They might not feel comfortable any more and can withdraw consent at any time. 🙂 Remember NO means NO and YES, MORE, I LIKE THAT means YES! If someone says SURE I GUESS, MAYBE, WHATEVER or does not reply, they are not consenting. You can try and ask another way, but don't try and talk them into something! That is coercion, not consent.
It is important to get consent all the time, every time.
WHEN IS IT NOT CONSENT?
If you are in a position of authority over your partner, like being in a student-teacher, boss-employee, or any relationship in which you hold any power over your partner, will and can
be considered non-consensual. If someone is too intoxicated to drive or walk or are slurring their words, they are not in a condition to consent for any sexual activity even if you are in a relationship. In this case, being involved with them would be violating them and not a consensual activity. If you don't have voluntary, lucid consent and you keep going, it's sexual assault.
SOURCES
https://www.sexandu.ca/consent/what-is-consent/
https://www.loveisrespect.org/healthy-relationships/what-consent/
https://www.rainn.org/articles/what-is-consent
http://www.leaf.ca/the-law-of-consent-in-sexual-assault/
https://www.ontario.ca/page/lets-stop-sexual-harassment-and-violence#section-2