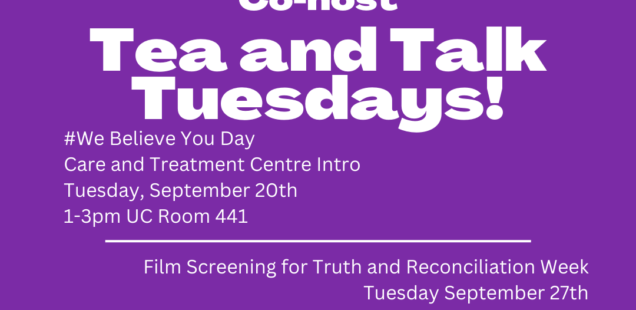 Tea and Talk Tuesdays!
Check out our September discussion series that we are presenting in collaboration with OPIRG Guelph!
Consent is Key at the UoG
Tuesday September 13th 5:30-7 UC Room 442
with Jensen Williams Sexual and Gender-Based Violence Educator
Join the Sexual and Gender-Based Violence Centre for an interactive workshop on practicing and promoting consent and ways you can provide trauma-informed and survivor-centric support to survivors of sexual and gender-based violence.
#We Believe You Day
Care and Treatment Centre Intro
Tuesday, September 20th 1-3pm
UC Room 441
Betty Slack, the Program Facilitator for the Care and Treatment Centre for Sexual Assault and Domestic Violence at the Guelph General Hospital will take us through the process to access the centre and what it might be like to make use of it.
Free Hospitality Gift Card to the first 10 people!
Film Screening for Truth and Reconciliation Week
Tuesday September 27th
Time and room TBA
Protect Our Future Daughters (5mins) and Warrior Women (60mins)