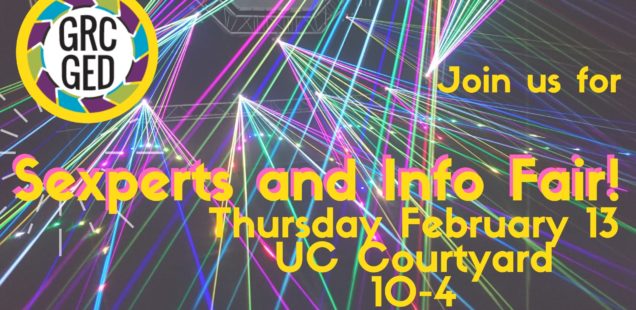 ASK A SEXPERT! EASY STI SCREENING! ALL THE INFO!
GRCGED is hosting our annual event for Sexual and Reproductive Health Awareness Week that we gleefully call Condoms, Cookies, Choice, Contraception, and Consent! It is Thursday, Febraury 13th from 10-3:30 in the University Centre courtyard at the University of Guelph. There will be an amazing group of community organizations who will happily talk with you about sexual and reproductive health and we will have SEXPERTS available for semi-private one-on-one questions. If you can't come or want to ask annonymously, send your question in and it will be answered and posted on our website in the coming weeks. Sadly our first survey link didn't work consistantly, so if you tried asking a question through the survey planet link, please ask again through this link.
We will have a public health nurse available to do STI testing in the private room in GRCGED as well! There is no cost for this – even for international students, so check your status and breath easy. Plus, the nurse is lovely and there is no shame or stigma when you go for your test.
See you Thursday!